Championship Golf Courses
Upcoming Events
HAVANA - Pro's Corner

Today, we are talking the Tee It Forward Initiative -
As I look at golf in The Villages, there are many things that amaze me. The cart traffic through the winter, the number of Hole in One phone calls we make each week, the number of players that "Shoot their Age." When it comes to playing the game that we all love, and playing it at a level that we can enjoy, The Villages is the place to be, no matter your skill level. I look at the scorecard here at Havana where you can always find a yardage to fit your game; from the Black Tees at 7,070 yards all the way down to 3,700 yards from our Friendly Tees, but the real question is….
WHERE SHOULD YOU PLAY?
This table is based on your average Driver distance off the tee. To see if you are playing the correct tees at any given course in The Villages, click HERE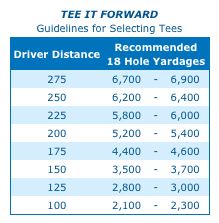 HERE IS MY CHALLENGE TO YOU
Tee it Forward and see how you can score. You would be surprised that one or two tees forward is not as easy as you would think. Set a goal for you, whether it's breaking par from a certain tee or breaking 90, move up and have some fun out there!
For more information or advice, please feel free to contact me at Havana Country Club or by email.
I am looking forward to seeing you soon out at Havana!
Tyler Krager,

Facility Manager / PGA Professional
Havana Golf & Country Club